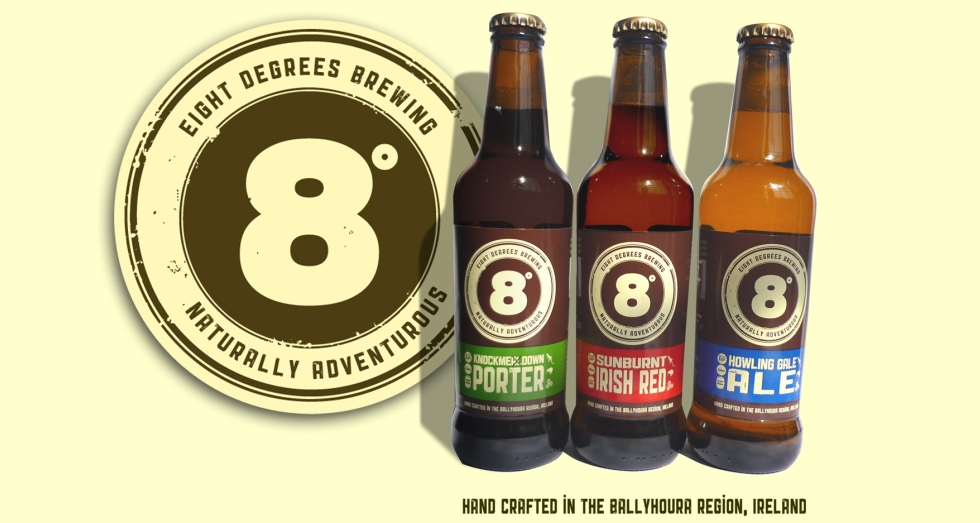 At Salt we're very proud of our Cork heritage and the part we play in the artisanal food and drink renaissance that has exploded in the true republic. As such we have a small but select selection of beers from local master brewers Eight Degrees who make adventurous beers that are available year round as well as a range of exciting seasonal and limited edition beers.
At Salt we have Barefoot Bohemian Pilsner Lager, Howling Gale Irish Pale Ale and The Full Irish Single Irish Malt IPA for your delectation, all of them specially selected to go with our wonderful food cooked by Stephane in the kitchen. So here's a lowdown on the beers we have on offer:
Howling Gale Irish Pale Ale
This beer pours a pale golden colour and the malty sweetness is well balanced by the American Chinook, Amarillo and Centennial hops. Howling Gale has a pleasant grapefruit and citrus aroma and goes well with fish, chicken or anything off the barbeque.
Howling Gale has plenty of flavour, with an attractive maltiness mid-palate and a lovely refreshing hoppy note kicking in on the finish. If you are trying to move on from lager, this would be a good place to start
The Irish Times

Pale golden but aroma packs a fruity punch that plays just as well on the tongue. Sugary sweetness balanced by a spicy, hoppy crispness makes for a very lively mouthful
The Irish Examiner

The lack of any artificial additives or ingredients really allows the crisp and refreshing flavours of this pale, golden ale to shine through without too much interference from other flavours. Beer purists should give this one a go for its natural, hoppy goodness.
Food & Wine Magazine
Barefoot Bohemian Pilsner Lager
Bohemians are creative dreamers who defy convention. This Bohemian Pilsner is just that, an unorthodox lager with complex biscuity malt, soft rounded bitnerness and a twist of spice from the noble Saaz and Hallertau hops. This crisp and adventurous drop is perfect for a chilled out summer session. This is pilsner like the Czechs intended.
When they're gone, they're gone. That ad tagline could just as well be applied to temporary seasonal beers such as this little beauty by Eight Degrees in Mitchelstown, just in time for the summer (fingers crossed). Its refreshing tang of savoury malty hops and crisp moreish finish harks back to the best pilsner tradition.
The Irish Examiner
The Full Irish Single Irish Malt IPA
This beer is brewed using 100% Irish malt and showcases the best home grown barley, malted in Cork.
It pours a pale gold colour with a lovely white head. This is a hop bomb with citrus and floral characters, grapefruit at the fore with hints of lime, melon and lychees that cleanses the palate with a lingering sweetness from the single malt, preparing the palate for the next sip.
This single malt ale goes with grilled fish, barbecued chicken and prawns. Put that barbecued chicken on a pizza and it's heaven in a slice. Also good with smoked duck.
8 Degrees, who were celebrating the 3-year anniversary of their combination of New World ideas with Irish Craft sensibilities, came armed with a wonderful Irish red ale in Sunburn and a contender for beer of the festival with the Full Irish, an orangey, citrus explosion which played with the taste buds.
Insert Title